Although break-ups can be really tough to get over, but they don't have to leave you broken.
For some people breaking up might feel as though their world has turned upside down and things can never be back to normal again and others can feel relief after a breakup. If you are bitter or relieved after a break-up, it's really okay. We are all humans and frankly, there is really no wrong or right way to feel about a breakup.
It is absolutely OK to feel whatever you're feeling. Just be kind to yourself and also remember it takes time to heal after losing someone who you loved so strongly in the past.
"A healthy relationship is a feast of affection/giving for both people; not one receiving crumbs and trying to convince themselves it's enough."

Shannon Thomas
We have compiled top tips by our psychologists on TickTalkTo who have helped many people like you to manage their emotions and move on after a breakup. Let's dive in;
It's OK to miss her or him
Acceptance is the first step I would recommend. The person you have lost now is someone who is a part of your story. You might not like the person now but repressing your thoughts and bottling up the emotions is not a good idea. You need to acknowledge that you two really did love each other at one time, however fleeting and flawed that love was. Don't be in denial and don't try to repress your strong emotions. You have to allow yourself to be sad and grieve the loss of an important person in your life instead of running away from the reality of the situation.
Take it off your chest
It is important to talk it out. Perhaps your sibling or a bestie. Don't hold your thoughts in your head and create a mental prison for yourself. Your friends and family who really care about you can be an amazing confidante. And they can support you through this process. Seeking help is a sign of strength and not weakness.
If you are a more private person and don't want to open up with family and friends, you can use a mental health counselling app to speak anonymously with an online therapist. At TickTalkTo, we have trained therapists who have helped plenty of people like you who have been struggling with a bad breakup.
Stop listening to Arijit Singh
It is a natural human tendency to grieve. And we do need time to grieve after a breakup but we also need to move on from that grief and make space in our minds for the rest of the universe. Music can really be healing. I would suggest to really revise your playlist and get away from sad songs or songs that remind you of the relationship. Perhaps try something more groovy. My favourites are Badshah and BTS.
Grab that McDonald's burger
There are a few experiences we indulge in very often and have loved it since long. For me grabbing my favourite meal always make me happy and forget about my worries. It's a good idea to pamper yourself. Spend a little extra time caring for yourself. If a burger doesn't cut it for you, consider watching your favourite movie or go meet your friends over a coffee. It can really help you switch gears.
Post Traumatic Growth
Yes, that's a real concept in psychology. You might have heard of many celebrities like Deepika Padukone whose careers skyrocketed after their breakup. Many people are able to channelise their hurt and anger after a traumatic even towards positive growth. And you can do that same. You can consciously push yourself towards your goals to overcome the sadness of breakup. Think of working out and building those abs, or studying hard to achieve your academic goals, or perhaps if you are in a job, up-skilling yourself.
Remember that dialogue from "Jab tak takleef na ho na life mein, tab tak koi bada nahin banta hai."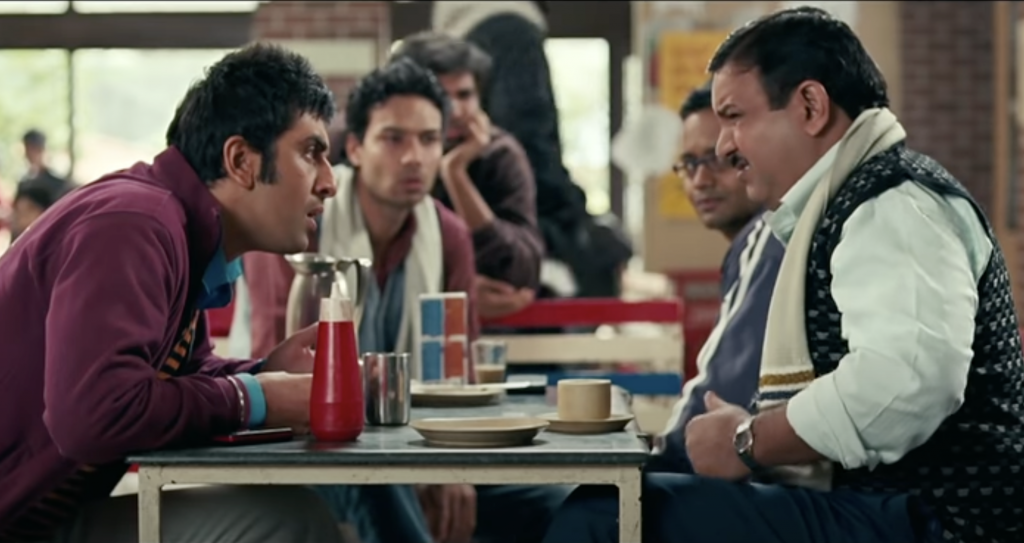 An attitude of gratitude
While it's hard to notice good things around you when you are down. But the truth is that there are plenty of good things and loving relationships around you. You just need to make a conscious choice to stare at your blessings rather than the void of breakup. Your parents, siblings, best friends etc. are all truly a blessing. You can chose to share a few laughs with them everyday. You can spend sometime in appreciating the abundant nature around you – the smell of the flowers, the twinkles of the stars and the coolness in the breeze.
Before I sign off, I would just say that you might be down and out now because of that break up but life surprises you in ways you can't imagine. And you will only be able to connect the dots looking backwards in future. Keep your eyes open for the next good thing life brings to you.